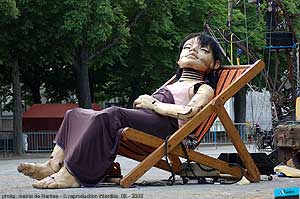 Une année de rendez-vous avec Jules Verne en 2005
La Ville de Nantes a vécu au rythme de "La visite du sultan des Indes sur son éléphant à voyager dans le temps" avec Royal de Luxe à l'occasion du centenaire de la disparition de Jules Verne.
Imagine in America municipal spectacles staged by a well-funded
Bread and Puppet Theater
, events without licensed products, in celebration of cultural history. Parade routes without barricades! Imagination without profit drive! Then you would have something like the celebration of the Jules Verne Centenary taking place in Nantes, France.
Merci,
Beware of the Blog
, the blog of Freeform Radio stateside. That's commercial-free radio, folks. Not one ad.