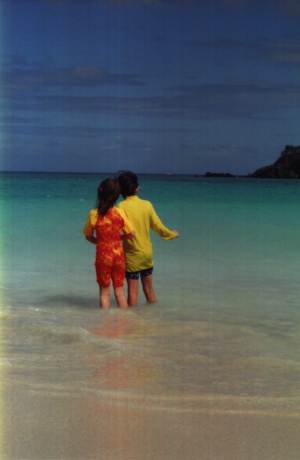 It seems that regular readers of this blog, which number well into the single digits, are wondering where I've got to. Well, with the hubby working I am truly more busy, and have to be deliberate in scheduling my off-hours, making sure to save time to sit in the tub and soak and think, my favorite activity.
Plus, we were in St. John for 10 days. It was my first experience with snorkeling, although I didn't get to do as much as I'd have liked. You could say I got my feet wet. Saw some sea urchins and various fish sniffing around the coral. There's a nasty virus going around involving headache, nausea, coughing and body aches. We took it with us on the plane and then passed it around during our stay, so one of the four of us was sick the whole time. This mostly meant that we spent a lot more time in our concrete-and-screen cottage than we otherwise would have. Our best day was spent at Maho Bay, checking out their eco-resort and swimming there. The Reef Bay Hike was also great fun, because we saw mongooses and a beautiful kapok tree, sampled a stinky toe, and got several up-close looks at golden orb spiders. My vacation reading was
The Heart is a Lonely Hunter
by Carson McCullers, and I loved it. My favorite island bird is the banana quit. I enjoyed making granola with the freshly fallen coconut and all the organic nuts and seeds we so wisely brought with us. The song we heard most often during the week was "No Woman No Cry" (our cottage was right next to the campground restaurant, and a different act played every night, but they all did that song). H & I both won t-shirts when we answered quiz questions correctly after a performance of slave narratives in the campground amphitheater by the Carabana Theater Company.
In other news, I took my third karate class tonight AND I LOVE IT! My favorite basic kick is the roundhouse. The teacher is impressed with the 44-year-old mom who can do a split and kick pretty hard. I've been storing kinetic energy for years. Tonight I broke a board with my elbow. I even have fun doing push-ups for the first time in my life.