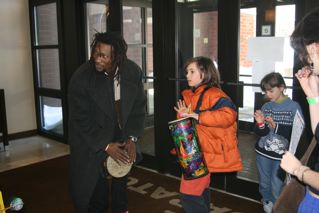 It was off to Saratoga, New York this weekend for the fabulous
Dance Flurry
, a wild waltz of music, dance and storytelling that overwhelmed us on Saturday—it felt more like a blizzard than a flurry. Then, on Sunday, we settled into a rhythm, so to speak, of finding the workshops that would work best for our family. My daughter and I learned to waltz while my husband and son watched a workshop on using picks, and we heard a ton of great storytelling. Two of our favorites:
Joe Bruchac
(Abenaki)
He's written a bunch of books but if you can get one of the recordings listed on his website, don't deprive yourself of the sound of his voice.
Bairbre McCarthy
(Irish)
McCarthy told some rocking jolly stories but my favorite was her recital in Irish of Yeats' "Down by the Salley Gardens." That is something to hear.
But the big discovery of the Dance Flurry for me (mind you, we missed 99% of it), was musicien québécois and his fiddle-playing partner,
Paul Marchard and Laurie Hart
Paul plays beautiful guitar, rearranging traditional tunes of Quebec and France (he lived in Brittany for two years), and taps his feet—tapements de pieds, or podorythmie. For examples of his music follow the above link to the radio show Dancing on Air, hosted by folk musicians Jay Ungar and Molly Mason. Great archive!
Picture by Henry of Ray jamming with
Fode Sissoko
.