Once while improvising the dialogue for a movie, my daughter, aged three at the time, said, "My mother calls me Miss I-Love-You because I smell nice."
It's true that smelling nice goes a long way toward making a creature lovable.
One reason I am a cat person is that cats smell nice.
Today our cat, Pat Lavender Will, smells like:
a tatami mat.
Nice smell.
Other days he smells like:
cookies baking
bread rising under a dish cloth
pretzels just out of the oven
forest after rain storm
a bed of moss sitting under a fern
my edition of
Great Expectations
A cat, curled and sleeping, smells most intensely of the nice smell s/he's smelling of on that particular day. The fur of the somnolent cat traps the aromas of happy human emotional memory. This is one way in which cats heal humans. Also, their purring quite possibly cures ills (theirs and ours) through vibration, but I don't want to stray from the topic of Cats Smell Nice.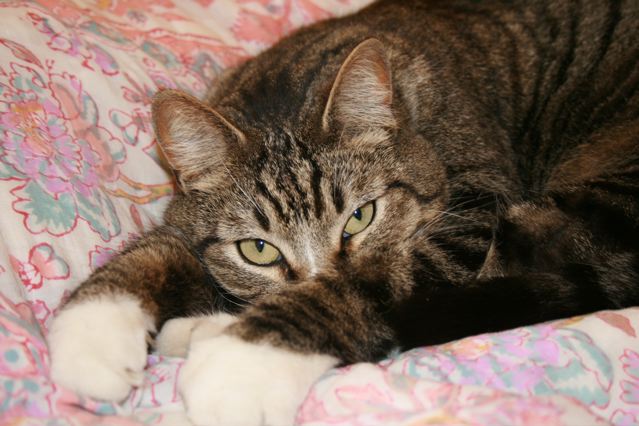 This may not win me friends in certain quarters, but dogs never smell like the items on my list. Too often, dogs' coats smell of sour cheese and their breath of poo. When I meet a nice-smelling dog, I confess, I am surprised. Glad, but surprised. And cats don't drool, but I don't want to go on comparing and comparing, like some people do, for example the makers of the Hollywood movie
Cats and Dogs
, a vehicle so stereotyped and rejecting of cats that it inspired my daughter to make an oppositional film critical of Dogs, called
Dogs and Cats
.
For a spiritual moment with your feline friend, enjoy reading aloud
"For I Will Consider My Cat Jeoffrey,"
by Christopher Smart, 1722-1771