Living in a jobless yet wealthy family is kind of strange. When I was in my 20s and lost a job, which happened plenty, I ran out and got temp work. The money came in immediately and I continued living paycheck to paycheck. Now, if my husband loses a job, we sell stock to live until he gets another job. He takes his time and waits for the right thing—last time the wait lasted three years. My point here is, we are jobless but not destitute, we need to tighten our belts right now but how tight? Who knows? Feast and famine at the same time.
With that mental backdrop I and my family drove up to Hudson, NY yesterday to see an HDTV rebroadcast of the Metropolitan Opera's current production (in English when we would have preferred the German) of
Hansel and Gretel
.
The opera's themes of starvation and scarcity, gluttony and waste, nourishment versus malnutrition, devouring and even a crumbling social order are introduced by painted curtains that rise over each act, depicting an empty plate, a blood-smeared plate, and a smashed plate. The parents' abandonment of their children plays out in their hunger and need.
The design was aiming at a kitchen somewhere between the Depression and World War II, we guessed, and the story resonated well with both periods. In the first act, the mother, having banished Hansel and Gretel to the haunted wood, eats food miraculously brought home by her husband—sausages and sauerkraut—in the most outrageous of several more instances of eating while singing (surely one of the great taboos of the operatic art), tucking food into some corner of her mouth so that when husband Peter tells her that the haunted wood's witch eats children, she runs to the sink and vomits real food! (The sinks alone fascinated me: Hansel breaks a milk jug in the family sink, then his mother vomits there, in Act II, a magical sink in a forest-room soaks dream dishes in frothy suds and the Dew Fairy dries them).
In the haunted wood, the children fall asleep with help from the Sandman and dream, not of guardian angels but of guardian chefs who lay a table with the only proper nourishment we see in this show—a balanced meal of many colors, clearly not over-cooked, and a tureen of consommé served by a dapper fish. One of the guardian chefs was my brother, but since they wear identical fat suits and masks, I was unable to spot him. Act II is full of lullabies and gorgeous music, and I liked the fanciful staging, Hansel and Gretel pickpocketing their strawberries from tree-figures in suits with branches for heads.
In Act III this production let the very real themes of this story rip, and I, my husband and our ten- and eight-year-old boy and girl were left unsettled by it. The witch's kitchen, the third and last of the opera, is oversized and metallic, reminiscent of a slaughterhouse, which indeed it is. The witch trusses up Hansel like a goose and then, using a funnel and hose, force-feeds him pastries that she has pulverized to paste in a blender, a mockery of the inhumane techniques used to prepare foie gras—the cannibalism of the story extended to suggest that to eat animals is to eat our own kind. (Lapsed vegan talking.)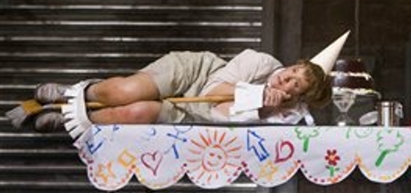 After the brother and sister gleefully lock the witch in the oven (where we watch her burn) they dance, and Gretel nonchalantly smears a chocolate Hitler mustache under the nose of Hansel, who ends the opera by taking a big bite out of the broiled witch's leg. If nobody in my family liked Act III, it may be because it so successfully elicited our horror and disgust, no-doubt thanks to close-up views of the stage action. All in all I think I would prefer this menacing version to the beirgarden aesthetic that seems to prevail in productions of Hansel and Gretel. A rich, even (necessarily) nauseating treatment of a dense and resonant fairy tale.
PS: Do we LOVE the HDTV Met broadcast program? YES! The venue we attended,
Time and Space Limited
, has been doing great avant-garde and community work for decades. They can use the full houses this is bringing in, and anyone who can't afford to visit the Met in person certainly deserves a cheaper way to enjoy opera. Bravo, Met.