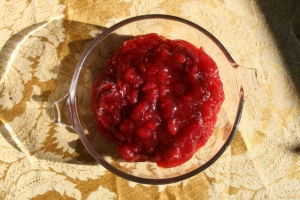 Cranberry Sauce Flotilla is a song by Dog On Fleas that I sing whenever I'm around cranberries.
What I really want to talk about is how I make cranberry sauce. If I say so myself, this recipe is yum, and I made it up myself. Don't know why I made it rhyme, though.
Cranberry Sauce a la Red Eft
8 oz or so of cranberries
1/4 c or so maple syrup (grade b!)
apple or apricot juice
2 tbsp or so agar agar or kanten flakies
Put those crans
in a saucepan.
Cover with water, bring them to simmer.
Start to look forward to an excellent dinner.
Let them cook until they look soft and stuff.
Add some juice. Not too much. Do this part off the cuff.
Maple syrup at this point will make it sweeter.
Just stir some in, you don't need a beater.
Add agar agar or kanten to make it firm up.
Pour into a bowl, or for each diner, a cup.
Refrigerate. Let it set a spell.
This will allow your sauce to gel.
Eat while singing Cranberry Sauce Flotilla. Good on toast, with yogurt, or mixed with rice and bright orange squash like kabocha or butternut.