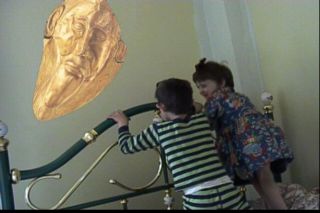 This is a still from one of my children's first movies, Death is Coming to You, Live! It has been five years since my 11-year-old started his movie company,
W.M. Thing
. He has made more than a dozen movies, and many more trailers, scripts, and concept drawings since then. He recently turned 11. He is changing so fast—too fast for me. Last night, he and my almost-9-year-old daughter decided to stop going to karate and try some new types of exercise. This morning my son decided to start blogging and he is sitting next to me, posting to his new blog right now. Feels like the big world is invading our sanctuary.
Visiting our karate teacher and telling him we were stopping (I had reached high brown belt, the kids brown), left me feeling dejected. Way back when my kids were toddlers, I read an article in a homeschooling magazine that said sometimes young people will take classes in a discipline, then give it up. Don't worry about the dropping activities, the author said, it's all part of the process. Anything left can be returned to. In my mind I know this is true.
In practice, these little departures are felt as loss just as surely as is my children's loss of their teeth, their baby fat, and their friends—some of whom have moved, some of whom have entered school after years of homeschooling. If falling in love introduces the possibility of loss and grief to a person, having children introduces loss as a constant companion. So many goodbyes.
Right now we are in limbo with respect to new pursuits. A whole lot of writing, animating, moviemaking, music-making is going on, but we need some "out-in-the-world" stuff, and I don't know what it will be...
We've had a year of little goodbyes.