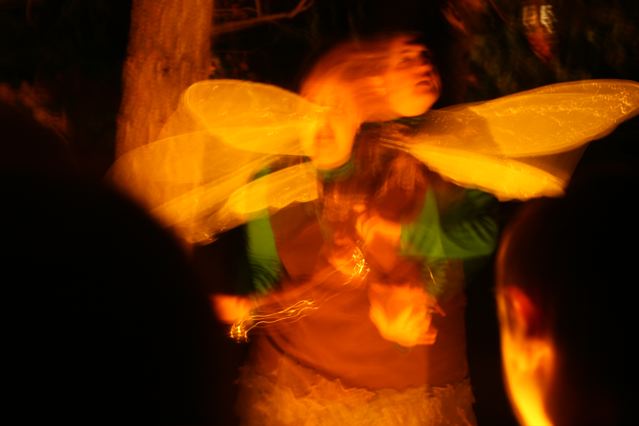 Of all the Halloween activities out there, none have appealed to me and my family as much as The Halloween Journey, produced in the Catskill Mountains by Kids in the Kaatskills.
"For parents who don't like Halloween's emphasis on sugar and fear, Kids in the Kaatskill's Halloween Journey offers an alternative that brings children a sense of magic and enchantment. A celebration of Celtic traditions of the season, as well as the Catskill region, children of all ages and adults are guided on a quest to find light in the dark woods. Along the way, they meet characters such as Rip Van Winkle, Johnny Appleseed, the Maple Tree Nymph, and John Burroughs, as well as fairies, animal spirits, and other forest creatures, who share tales and treasures."
The wholesome treasures (an apple, fairy dust, a mala-bead bracelet) and the folk tales are enchanting, but it is the setting of the event, and the way it appeals to the senses, that I know my children will revisit every Halloween as they get older: the bonfire sending spark threads up into the night, reconnecting with friends we haven't seen in ages, a starry sky with a frosty Milky Way that we can't see from our own light-polluted back yard, carved pumpkins and luminaria guiding the way into the woods, candlelight reflected in a still stream as we pick our way carefully over a ramshackle footbridge, green light reflecting off the mohair shawl of the Wise Woman of the Forest.
One year, while on the journey, we even saw the Aurora Borealis—talk about fulfilling a quest to find the light!
To get on the mailing list for next year's Halloween Journey (assuming there will be one; some years there hasn't been) contact storydanz at yahoo dot com. Kids in the Kaatskills is a Not-for-Profit Organization based in Margaretville, NY that coordinates events for children of the Catskill region.