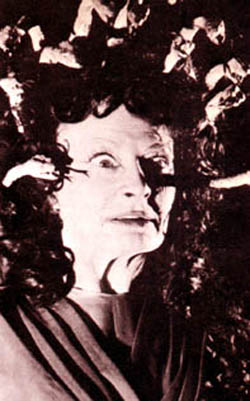 I've been paging through Lynda Barry's writhing, book-length doodle-for-your noodle,
What It Is
.
There's no section that isn't my favorite section. One of them is about monsters.
She says that the monster that most scared and fascinated her when she was a kid was the Gorgon, who could turn anyone who looked at her to stone. She reminded Barry of her mother, and working up the courage to look at the Gorgon helped her cope.
"We never need certain monsters more than when we are children," she writes. "And a furious woman with terrifying eyes and snakes for hair was the perfect monster for me...What was yours?"
A bunch come up.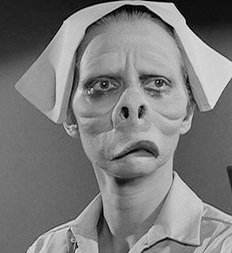 The first one I thought of was a woman in a Twilight Zone episode I saw when I was five. We had just moved from Syracuse to Baltimore, and were living in an apartment while we waited for our house to be finished. I was sleeping in a room with my three sisters. I imagine the situation was somewhat stressful, but I remember very little from that period other than being traumatized by Rod Serling.
In that episode, called "The Eye of the Beholder," a beautiful woman, on a planet where the people most prized look like wild pigs, gets plastic surgery to make her more acceptable. She spends most of the episode wrapped like a mummy, which was scary in itself. When I think about that I stop breathing. If I remember right she screams at the end when they take off the gauze, because she's still pretty. I had lots of nightmares after that. I imagined a figure standing on the wall above my bed. Plastic surgery still makes me want to scream.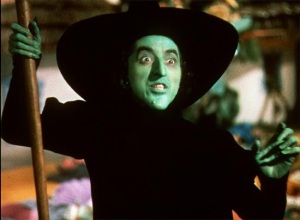 Most of us are shown
The Wizard of Oz
when we are too young to keep our eyes open during the Wicked Witch of the West parts. You have to grow into that part of the movie.
In my baby book, it says that Hansel and Gretel was my favorite fairy tale at age two, so I guess witches were on my mind from a young age. I always thought of Dorothy as the fourth witch in Oz (there's no witch of the south, a gap she fills when she drops out of the sky). There were other good witches in movies too, like the herbalist-healer in
The Three Lives of Thomasina
.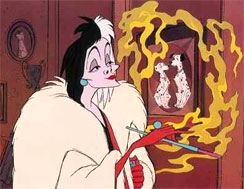 Then came Cruella DeVille. When I watched 101 Dalmatians with my kids several years ago, it seemed odd that I had ever been afraid of her, but I trembled whenever she came on screen. I couldn't believe
Dalmatians
was a movie for kids, with a villain that frightening.
Like Lynda Barry's Gorgon, Cruella DeVille reminded me of my mom when she was angry. They both had long nails and voices husky from smoking. (My mother later quit and her five kids grew up, making her life easier and more enjoyable, but her smoking was a big issue throughout my teens; particularly her habit of lighting up after dinner while we were trying to enjoy brownies she had baked us).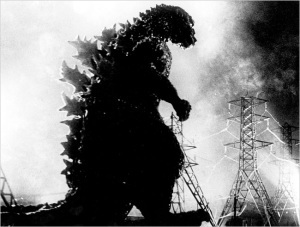 As I entered my teens I watched a fair number of Godzilla movies, usually with my brother. We liked to laugh at the dubbing. I wasn't afraid of Godzilla. I thought she was female, since she had a baby that seemed to have hatched from her egg, and maybe because boys called a girl at my high school Godzilla, as an insult. They stopped calling her Godzilla after she, in a Dalai-Lamaesque maneuver, hosted a formal-dress party at her house and invited the perpetrators.
Godzilla got me imagining what fun I'd have as a skyscraper-smashing giant. Godzilla also set the stage for the unquestionably-female monster of the
Alien
series, which, together with the hero played by Sigourney Weaver, was a touchstone throughout my 20s.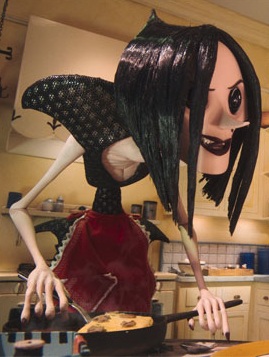 I agree with Lynda Barry that we need monsters, to help us be brave, to give us an outlet for our own monstrous feelings, to show us what's intolerant and uncivil in our world.
I wonder if the Other Mother of CORALINE will give my daughter something to brood about.
Children need monsters; do girls need female monsters?
I think so, and female heros to tussle with them.